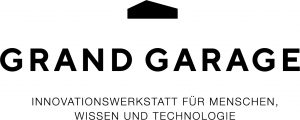 On February 28, 2019, an innovation workshop will open in the Tabakfabrik in Linz that will make the hearts of technology freaks, innovation spirits, inquisitive and curious people beat faster.
Three floors, 4.000 square meters and lots of highly professional machinery for prototyping – these are the facts of the GRAND GARAGE. But there's much more to it than that, as the name suggests: the garage is a birthplace of ideas, a place of joyful experimentation, a place of pilgrimage for technology and innovation freaks.
The first floor is dedicated to robotics and metal. From a CNC milling machine to welding booths with highly professional equipment to surface treatment, everything is available. The highlight of the floor is the "creative robotics" laboratory of the Linz University of Art. On the second floor, a professionally equipped Fablab awaits members: laser cutters, various 3D printers, soldering stations, CAx, Arduino, Raspberry Pi, as well as a dedicated area for virtual and augmented reality.
The GRAND GARAGE is also a space where people of different ages, with different levels of education and knowledge meet, exchange ideas and together give free rein to their passion for technology and creativity. For this purpose, the community and lounge area is located on the second floor with access to the large outdoor terrace, which is intended to serve the members to exchange, mutually inspire, find ideas and, above all, to relax.
The Innovation Workshop focuses on targeted support, empowerment and further development of skills in 3D printing, programming, electronics, mechatronics, robotics, etc., as well as methodological competence. A diverse range of workshops and events is available to members for this purpose, which can also be used by external visitors.